Metal fabrication is our featured focus for November, a month that coincidentally features "National Metal Day" in celebration of heavy metal music. Much like metal music, metal fabrication can be an extremely loud and fantastically unique art form boasting mass appeal.
Based in Ocala, Florida, Double R Manufacturing's metal-fabrication specialists spend their days customizing built-to-last pieces for delivery to customers across the nation. Fabricating, powder coating, sandblasting, and abrasive waterjet cutting are among Double R's specialty services requested by residential customers, commercial enterprises, local farms, and sprawling ranches spanning from Central Florida to California.
Types of Metal Fabrication and Processes
Metal fabrication allows for the customization of sturdy items like fencing, gates, doors, stairs, railings, signage, shutters, grills, tables, bars, benches, farm accessories, breeding stalls, and countless other manufactured products and equipment.
Double R's artisans create metal products through many different processes and materials ranging from aluminum or steel, to liquid or sheet metal. Depending on the project, creation and assembly of customized metal structures may include:
Casting or Molding
Cutting, Shearing, or Punching
Bending or Folding
Welding or Joining
Stamping or Pressing
End-Tube Forming or Beading
Machining or other Processes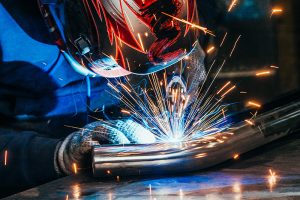 Incredibly Unique Designs and High-Quality Fabrication
From metal fabrication to final delivery, Double R Manufacturing is prepared to design nearly anything you can imagine. Simply supply a CAD file or image, or consult with Double R's design team regarding your aluminum, stainless steel, or other type of metal project.  Waterjet cutting, sandblasting, powder coating, and other expert fabrication services are available to bring your visions to life.
We work with individuals and corporations on projects big and small.  Call Double R Manufacturing today at (800) 813-3361 to learn more about our products and services.