Our engineering department can help with your ideas, large or small.
This is where it all starts, custom fabrication, the backbone of our company and the roots that keep us strong. Based on years in the marine industry, Double R Manufacturing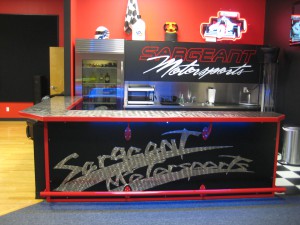 specializes in problem solving and creating a product that not only fits the need but looks good and lasts for the long haul.
A few of the specialty items Double R Manufacturing has created include: Carts, Trailers, Tool Boxes, Party Grills, Roof Supports, Water and Fuel Tanks, Shelving, Ramps, Gun and Storage Boxes, Hooks, Stairs, Railings and Truck Bumpers. AC Pate Curbs, Serving Tables and Signage.
Whether we work with an individual or corporation, one piece or thousands, we love a challenge.
Some of the more unique items Double R has been involved in include: Karts, Clothing Racks, Yard Art, Small Bridges, Custom Decorative Oven Range Hoods, and Marine Products including stairs and aluminum towers, custom desks and furniture.
Click here to see our Custom Fab gallery.
Click here to see our Custom BBQ's
Click here to see our gallery of custom Tables, Bars and Benches