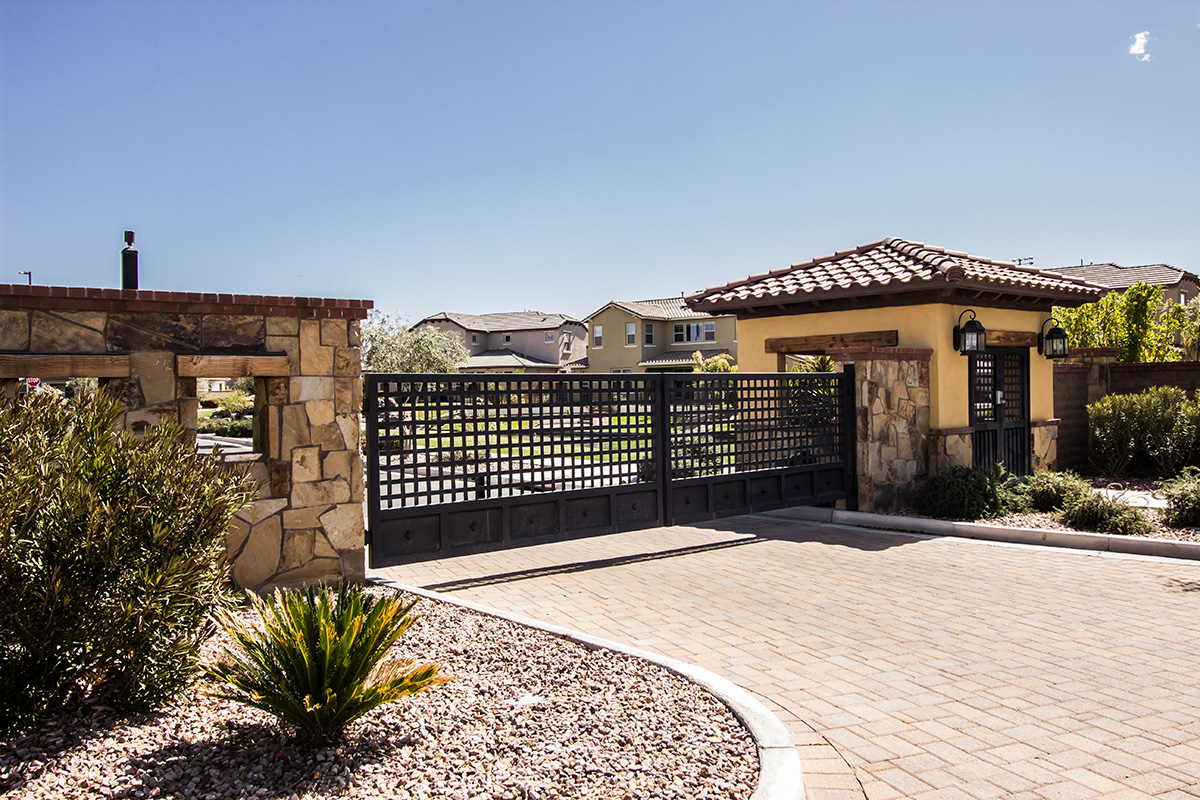 Ready to welcome visitors with style and individuality this season? Think about adding custom manufactured items to your property. Whether greeting business customers or inviting guests over for the holidays – customized products and equipment will make a great impression.
If you want to portray a positive image, here is how the Florida team at Double R Manufacturing can help you with custom gates, stairs, fences, signage, furniture, and more.
Manufacturers for Entrance Gates and Security Gate Systems
For safety and sophistication, today's homeowners, residential communities, businesses, and large organizations choose skilled manufacturers to build their gate systems. Custom manufactured options include stylish entrance gates and automatic security gates with remote control. Also, value-added components like high-tech sensors combined with special accents are impeccable upgrades.
Whether double gates, single, slide or swing – all welded entrance and exit gates can be custom designed with unique colors, features, logos, or monograms. Double R's gate designs also provide durability and longevity thanks to rust-proof powder coatings and custom installations for a perfect fit. Browse our Custom Gate Galleries for inspiring ideas.
Exterior Signage, Property Markers, and Directory Signs
Undoubtedly, exterior signage and property markers are clear ways to welcome visitors at residential homes or commercial properties. For example, custom manufactured signage for your ranch could ensure guests feel welcomed when finding their way around your property.
Additionally, large businesses or campuses may want to add directory signs outside and inside for navigating a property, especially during the holidays when special events are held. Customized signs can also help customers know where to go or what to do in certain areas.
Best of all, Double R Manufacturing's team of sign designers can custom manufacture nearly any style for signs, banners, glass cases, tack boards, and signage built with diverse materials. Browse our Signage Gallery for a sampling of styles, substrates, and colors.
American Manufacturers for Custom Wood and Metal Tables
When guests or visitors arrive onsite, nothing is better than giving them a seat at a table designed by our American manufacturers. Beautifully, all custom wood and metal tables can be built and fitted for your unique interiors or exterior décor.
From dining rooms to restaurants, the possibilities are limitless for built-to-last designs for tables, built-in cabinets, bars, and other furniture. Choose special bar and table features to display your style and tastes. View our Tables, Bars, and Benches Gallery for ideas.
Our experts welcome you to contact Double R Manufacturing at (800) 813-3361 to discuss your custom manufactured gates, signage, tables, furniture, and other project goals this season.