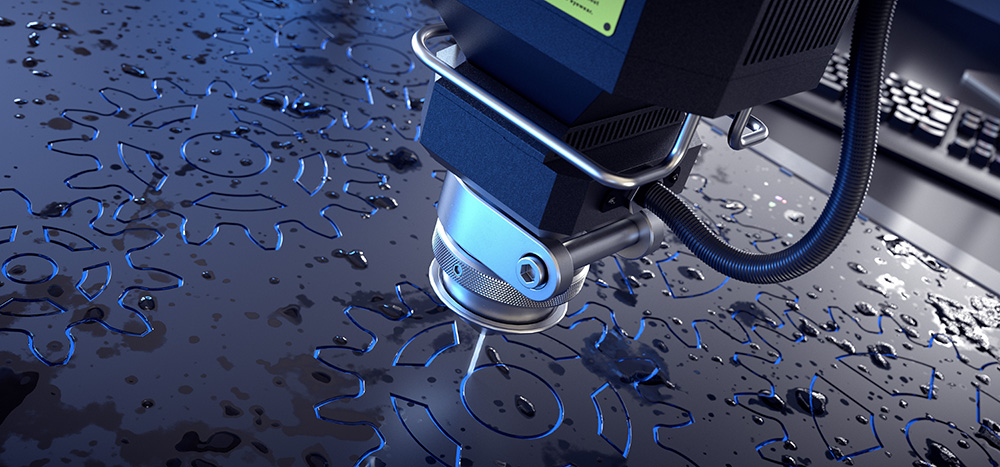 In celebration of American Artist Appreciation Month, the Florida-based team at Double R Manufacturing is detailing the precision of waterjet cutting as an artform.
American artists include painters, photographers, designers, sculptors, and many other talented specialists.  From wall art to custom product design and equipment manufacturing, Double R's artisans are proud to help customers bring their artistic visions to life through waterjet cutting.
Uniquely, the high-powered, jet-stream technique of waterjet technology has been useful in sculpting and transforming an array of materials into works of art for decades across America.
Here are the top three reasons to appreciate waterjet cutting as an artform:
Waterjet Cutting is an Artistic Technique Used by Skilled Manufacturers.
Put simply, art is the creation of something unique and one-of-a-kind. Custom fabrication through the waterjet-cutting process provides both beauty and functionality.
In addition to one-of-a-kind wall art and custom furniture, the abrasive waterjet technique can help ensure the sturdiness and preciseness for essential products and equipment, such as fencing, gates, stairs, railings, stall doors, signage, shutters, and other manufactured items.
Waterjet Cutters Can Transform Soft Plastics or the Toughest Titanium.
Wonderfully, waterjet cutters are not limited to one type of art medium. Skilled waterjet cutters can drill and cut unique designs, shapes, angles, quality edges, and holes into materials including, but not limited to: Aluminum, Stainless Steel, Copper, Granite, Nylon, Mild Steel, Marble, Ceramic Tile, Glass, Polycarbonate, Polystyrene, Fiberglass, Brass, and Carbon Fiber.
Double R's Waterjet-Cutting Services Offer Limitless Design Options.
Double R's waterjet-cutting specialists are ready to complete the finest of details to accomplish your artistic goals. Some customers like to describe their ideas and supply a CAD file with size requirements, while others ask us to let our creative juices flow for a unique design.
For flair or personalization, customers may want to add logos, monograms, or ornamental accents to Double R's manufactured products and equipment. Corrosion-resistant and rust-proof powder coatings also come in a vast array of colors to finalize a perfect piece.
With over 75 combined years of design and fabrication experience, Double R Manufacturing's experts serve commercial and residential customers across America. Whether we work with an individual or a corporation, one piece or thousands, we enjoy bringing your visions to life.
Call Double R Manufacturing today at (800) 813-3361 to learn more about waterjet cutting and other custom manufacturing services.