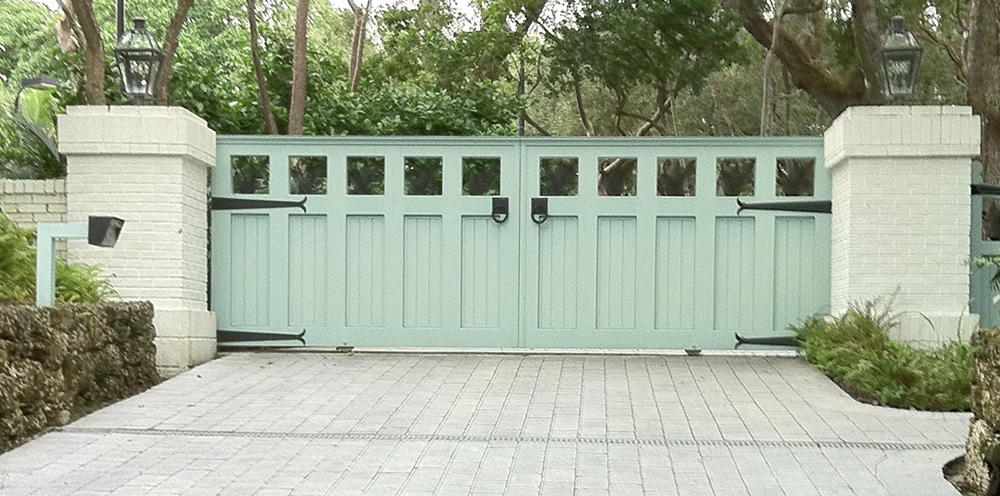 The New Year offers gateways to new opportunities. The month of January has been said to be named after Janus, the Roman god of gateways and transitions. As manufacturers of custom-designed gates, it seems fitting for us to celebrate the month by spotlighting ways to enhance the gateways to your homes and businesses.
Entrance gates are often the first thing people see when arriving at a home, community, farm, ranch, business, campus, or park. In addition to safety and security for property owners, custom-manufactured gates can provide a welcoming and inviting feeling for your visitors.
Top 4 Features for Entrance and Exit Gates
At Double R Manufacturing, we uniquely specialize in customizing every detail to meet the needs and goals of our customers.  Here are four features of Double R's custom-made gates:
Proven Reliability: As an essential means to enter and exit a property, gate systems must be completely reliable and efficient. Double R manufactures built-to-last metal gates with rust-proof powder coatings. Additionally, we offer first-rate brands of gate open/close systems and accessories, including Chamberlain/Lift Master, Sentex Systems, Apollo, and other dependable brands.
Solid Security: Double R designs fully welded security gates with steel and aluminum options for durability in design and strength for safety. Battery back-up protection along with electric or solar power also provides enhanced reliability. Homeowners, farmers, ranchers, business owners, and municipalities trust Double R for the most secure gates.
Total Control: Depending on your needs, Double R can help install access systems including radio control, keypad, card, barcode, or telephone entry. There are also full-safety system options for incorporating photo eyes, edge and magnetic sensing devices.
Customized Design: From concept to installation, Double R will bring your visions to life in terms of gate styles, designs, colors, and finishes. We can manufacture sleek single gates that slide or grand double gates that swing to specifically meet your project needs. Plus, we offer limitless options for durable powder coatings and special features with monograms, curvatures, or accents for your modern or traditional tastes.
Put simply, our skilled engineers and craftsmen at Double R Manufacturing are setting new standards for gates and entrances. If you are ready to welcome in a new year by welcoming visitors with style, contact Double R's team. We also invite you to browse our Galleries of gates and access systems.
Happy New Year! Double R Manufacturing is ready to surpass your expectations in 2022. Call us today at (800) 813-3361 to learn more about our other products and services.