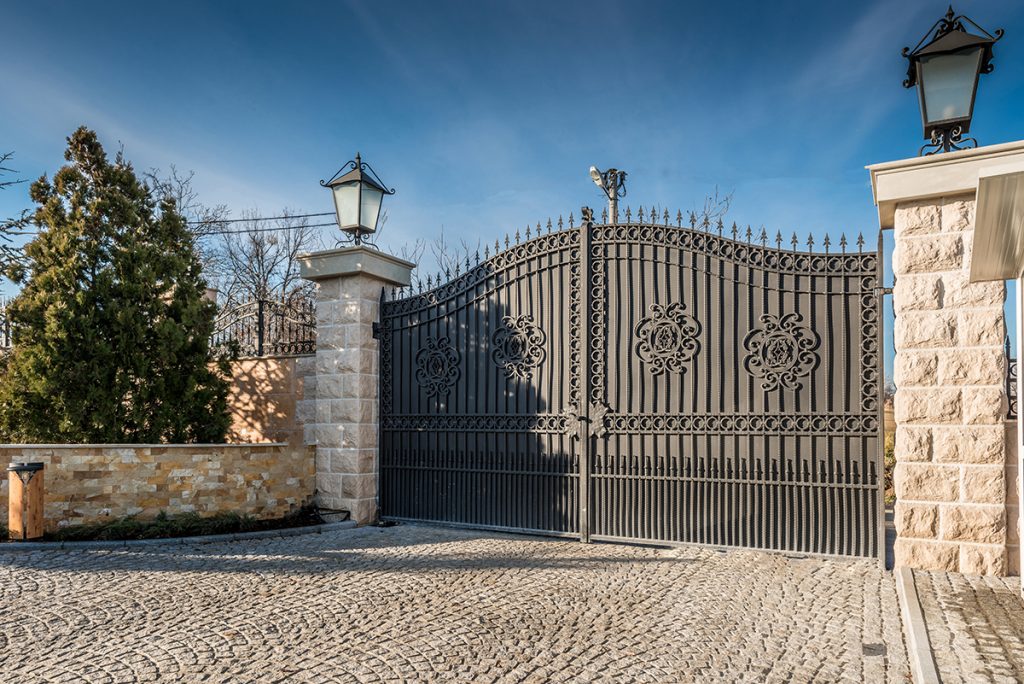 The month of July brings to mind all the great things we have to be grateful for in the United States, including the right to own property.  In addition to celebrating Independence Day, the team at Double R Manufacturing is noting the ways Americans can celebrate their property rights by customizing and proudly marking their land with custom gates and entrances.
Constitutional Rights to Own Property
The U.S. Constitution and several of its Amendments mention property rights.  Put simply, every person has the right to own property individually or to own property in association with others.  Owning a home, a farm, or a business are quintessential American Dreams, and designating our properties with unique customizations is a tangible example of our liberty.
Freedom to Customize Your Property and Entranceways
The first thing guests see upon visiting your home, farm, or business is the entranceway.  Double R Manufacturing enjoys working with customers to customize gates and entrances that allude to the uniqueness of a property and its owners.  Elaborate features, pickets, ornamental finials, graphics, and unlimited lettering options combined with thousands of powder-coating colors offer the freedom for customers to bring their design ideas to life.
Some people choose a monogram for a dignified style of gate, while others choose unique graphics and accents to display artistic flair.  Similarly, as a way to make a great first impression and create brand awareness, many commercial properties opt for business logos displayed on entrance gates.
Top-Quality Steel and Durable Aluminum Gates
To surpass the expectations of each customer, Double R Manufacturing designs fully welded entrance gates with top-of-the-line operating systems.  Whether you choose single or double gates that swing or slide, you can count on Double R's skilled engineers to create a beautiful and durable design.  From sandblasting and water jet cutting, to custom fabrication and final powder coating, our specialists use only the best possible materials to provide the highest standard in finished products.
For examples of custom fabrication, view Double R's gallery of Gates and Entrances.
Built-to-last gates and unique entrances are just the first step in welcoming guests to your home, farm, or business.  In addition to entrance and exit gates, Double R Manufacturing invites you to also browse our wide selection of customized signage, property markers, railings, banisters, stairways, landings, equine equipment, barn and stall equipment, custom barbeques, bars, tables, wall art, and much more to help customize your American Dream.
Double R Manufacturing is ready to help you celebrate your freedom to own and customize your property.  Let us surpass your expectations this summer with durable products and equipment to meet your unique needs.  Call us today at (800) 813-3361.