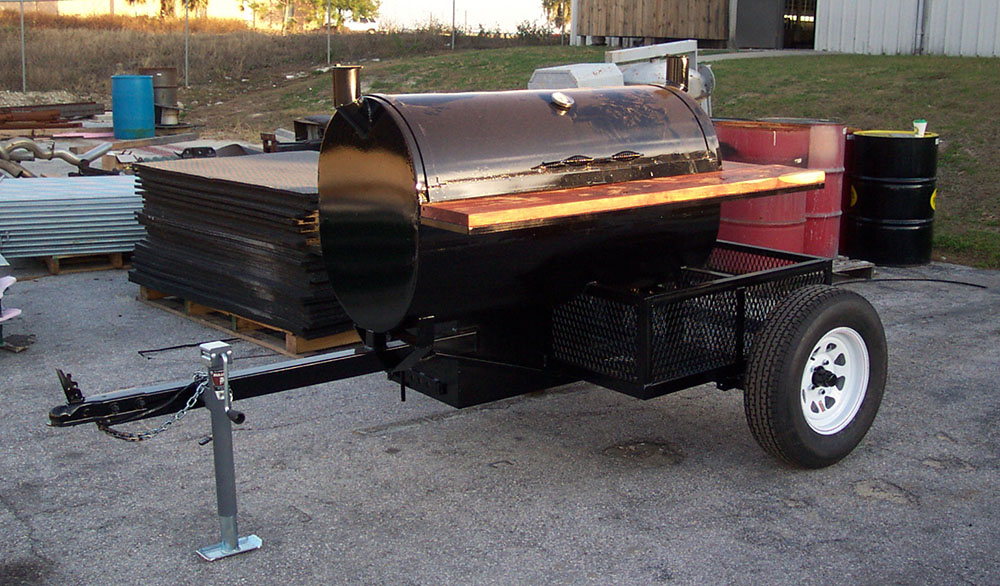 Fall sports fans are cheering at tailgating parties and outdoor events. Our team at Double R Manufacturing wants to help you enjoy the season and celebrate National Tailgating Month this September with custom-built trailers, barbeques, grills, smokers, and stylized carts.
Whether you are a football fan attending your local team's tailgating party, or you are a barbeque food vendor traveling to fall festivals across the U.S., Double R can help stylize and optimize your trailers, carts, and trucks for fantastic food and fun.
Custom Grills, BBQs, and Smokers for Fall Events
Barbecuing and grilling before a big game are American traditions. Local, high school, college, and national leagues all host great tailgating parties and fall events in parking lots and outside stadiums nearly every weekend throughout autumn.
Fittingly, Double R's team is putting a special focus on fabricating trailers, BBQs, smokers, grills, and carts this fall. From the sturdy metals to the welding and assembling, customers are always impressed by the level of detail and quality of each custom-built item.  Stylizations also include countless color options for the final powder coating, meaning your team's colors can always be fully displayed at your tailgating party.
As for businesses and commercial vendors, they also love adding customized features like logos and promotional signage to trucks, trailers, carts, grills, and smokers.  Best of all, vendors trust that a Double R-designed piece will last the long haul. These are not rickety or generic items. Double R customizes items to last throughout all seasons and long-distance travels.
As always, customers are welcome to supply logos or describe their creative ideas to launch the custom-design process. View a few examples of past designs delivered to valued customers across the U.S.: Custom Barbeque Grills.
Manufacturing Services for Trailers and Truck Conversions
At Double R Manufacturing, we understand that reliability and durability is essential not only during the tailgating party, but also after the party is over. Customers choose Double R for fabrication as well as full maintenance for carts and brand-name trailers, including lighting, axles, and bearings.
Remember, however, Double R is not just a one-trick pony for your tailgating party. Beyond the barbeque carts and trailers, we are among an elite industry of experts in trailer repairs, truck conversions, and full fabrication for commercial, utility, cargo, boat, camper, and other specialty equipment. View our gallery of trailers and truck conversions at: Truck Conversations.
Double R Manufacturing wishes you a happy tailgating season. Contact us to help kick off your fall events with high-quality products and equipment. Call us today at (800) 813-3361.