For truck lovers, spring is an ideal time to hitch a trailer and hit the road. Whether taking on a big task, or simply taking an adventure, a sturdy and durable trailer that is ready for the long haul is essential for a successful trip around Central Florida or across America.
Double R Manufacturing's skilled engineers are proud to be part of an elite industry of experts in trailer repair, truck conversions, and custom fabrication.  It takes a talented workforce with an ability to fine-tune machinery operations for the perfect utility trailer or pickup truck conversion.
Trailer Repair, Truck Conversions, and Custom Fabrication
Based in North Central Florida, Double R Manufacturing repairs all major brands of trailers, including everything from lighting, axles and bearings, to complete re-designs.  Whether you need new Leaf Springs for springtime, or full fabrication, Double R is your one-stop-solution for commercial, utility, cargo, boat, barbeque, camper, and specialty trailers.
Put simply, Double R considers custom trailer fabrication and conversions a true art form, as each job is unique and specific for your needs. With an impressive combination of mechanical and artistic skill, Double R Manufacturing's custom fabrication and design services include meticulously bending, cutting, assembling, and delivering strong products with style, functionality, and longevity.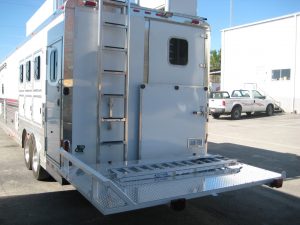 As for customization, the entire process is streamlined for customer satisfaction.  Some customers like to supply a CAD file or image for design, while others simple describe their visions and needs to Double R's specialists for designing unique pieces based on meticulous measurements for project success.
Double R's craftsmen combine skill with the best possible materials to provide the highest-quality trailers, from the initial concepts to hitting the road. See our gallery of Truck Trailers and Conversions.
Customized Products to Exceed Expectations
With 75 years of combined experience in design and fabrication, we are thrilled to celebrate the limitless benefits of high-quality manufacturing in America. Double R is nationally known for customized fencing, gates, stall doors, breeding stalls, and shutters. Trailer repair is just one of our many specialty services.
In addition to everyday equipment and custom trailers, our unique list of specialty items have included carts, tool boxes, roof supports, shelving, clothing racks, yard art, wall art, gun and storage boxes, hooks, small bridges, ramps, stairs, railings, bumpers, tables, benches, signage, marine products, and custom BBQs.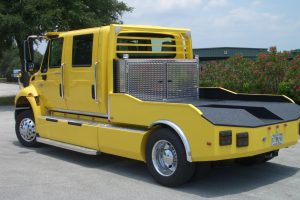 Contact us to learn more about our durable products and services.  Double R Manufacturing works with individuals and corporations on projects big and small.  Call (800) 813-3361 to discuss your unique project.