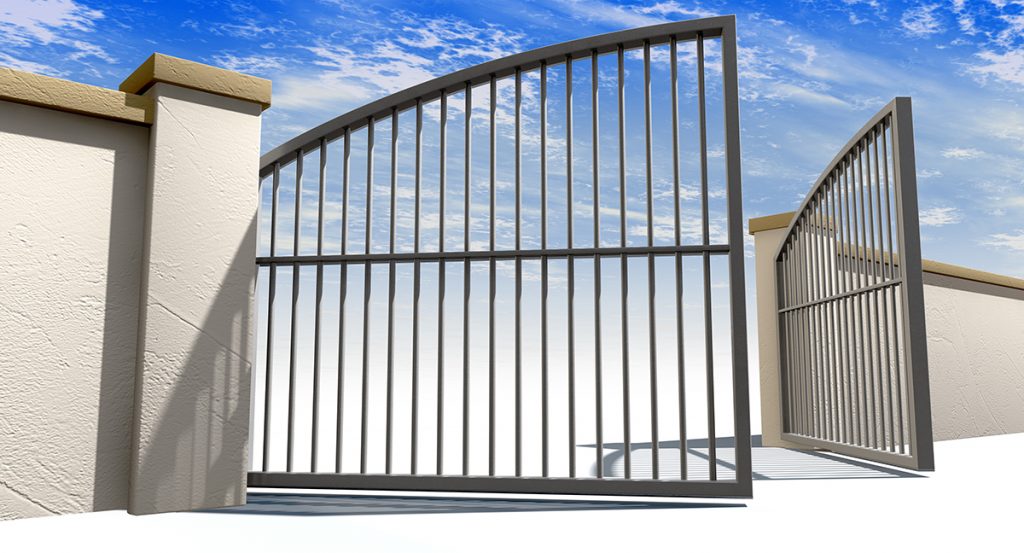 November officially launches the holiday season, which is a busy time for guests and visitors.  Whether your business picks up this time of year or your friends and family come over for holiday meals, it is important to provide a welcoming and inviting atmosphere.
Your gates and entrances offer visitors the first glimpse of your property. Today's homeowners and business owners are opting for entrance gates that can provide much more than security and safety.  For example, Double R Manufacturing's customers are requesting customized gates to enhance the beauty and uniqueness of their homes and businesses.  Whether elegant with curved accents, monogramed with family initials, or personalized with artistic logos – Double R Manufacturing is setting new standards for gates and entrances.
Custom Fabrication
At Double R Manufacturing, our customers have sought our expertise in the custom fabrication of built-to-last gates and entrances. Our skilled engineers and craftsmen strive to ensure each design is superior in quality to our competitors. Here are some highlights for Double R Manufacturing's products and service:
Fully welded entrance gates with top-of-the-line operating systems
Steel and aluminum options for durability and longevity
Single or double gates that swing or slide to meet your project needs
Custom features, pickets, ornamental finials, scrollwork, lettering, and logos
Durable powder coatings in thousands of colors, finishes, and accents
Beauty, of course, is in the eye of the beholder, which is why Double R manufacturing provides customers an array of design options, from an antique finish in bronze for your horse farm's front gate, to a sleek black design for the entrance to your modern home.
Would you like to welcome guests this season with a customized gate or entrance? We invite you to browse our past project designs for inspiration and contact us for limitless possibilities for your home, farm, or business.
Through attentive service and beautifully designed products, Double R Manufacturing is ready to surpass your expectations with high-quality products and services. Call Double R Manufacturing today at (800) 813-3361 to learn more about our products and services.