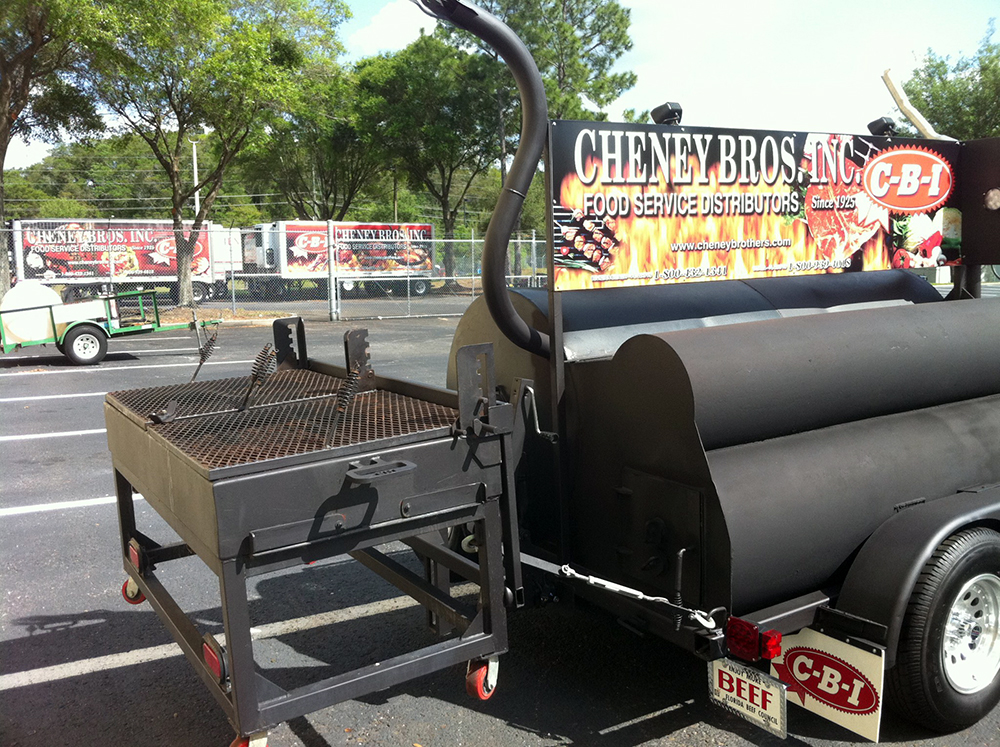 May is National Barbecue Month, and our friendly team at Double R Manufacturing is sharing the best ideas and features for customized barbecues. Whether you say BBQ, or spell it barbeque, there are countless customizations to consider for style and sizzle this summer.
Custom BBQ Grills and Smokers
First, let's get cooking with a great looking BBQ grill. Customized barbecues, grills, or smokers from Double R will take your event to the next level. In contrast to generic-looking grills from your nearby big-box store, our custom designers can make your grill or smoker stand out with personalization, high-quality features, and custom add-ons.  Browse Double R's gallery of BBQ grills and smokers
Trailers, Carts, and Truck Conversions
Next, feel free to pick a perfect location for your barbecue. Custom grills and smokers don't have to stay at home during barbecuing season. Our custom trailers and carts can allow you to take your customized barbecues on the road to parks, beaches, parties, festivals, and events.
Uniquely, Double R is part of an elite industry of experts in customized trailers, carts, truck conversions, repairs, and full fabrication. This includes recreational, commercial, utility, cargo, and other specialty items. We invite you to view a few examples of our work
Personalized Picnic Tables, Bars, and Benches
Finally, give your guests a stylish seat to enjoy the world's best barbecue at your business, home, or other gathering place. Picture personalized picnic tables, serving tables with your family name, or perhaps wood-and-metal restaurant tables and benches customized with your business logo.
Double R specializes in bringing your ideas to life with the accents and colors of your choosing for indoor and outdoor tables, bars, and benches. View a small sampling of styles at our gallery
National Source for Customized Equipment and Products

From Memorial Day to Labor Day, and every day in between, Double R Manufacturing is a national source for the design, assembly, and delivery of durable products and customized equipment. While you work on perfecting your signature BBQ sauce, our manufacturing experts will stay focused on serving up the best in manufacturing and custom designs.
Double R Manufacturing is ready to surpass your expectations this summer with customized barbeques, products, and equipment to meet your needs.  Call us today at (800) 813-3361.