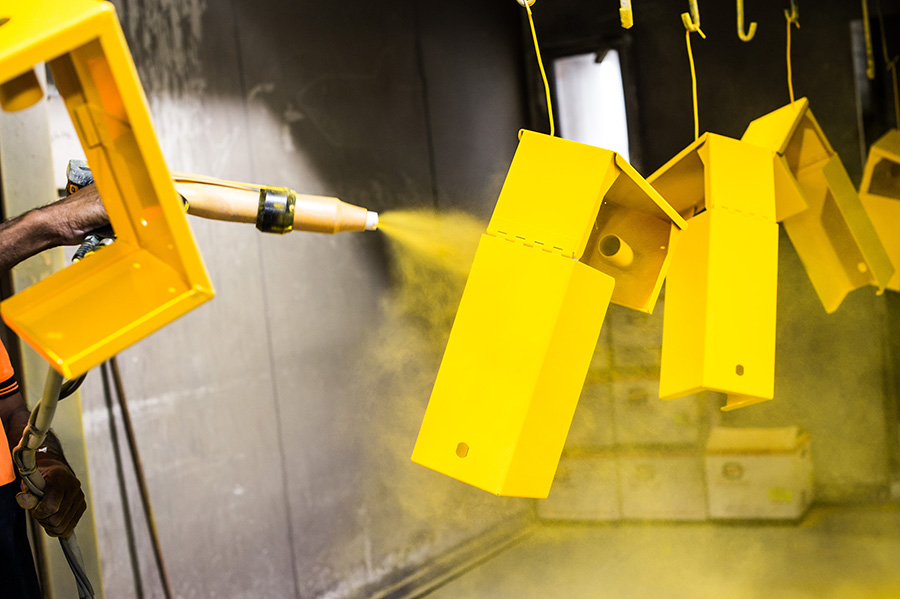 Spring is a time for rebirth and re-building. At Double R Manufacturing, we celebrate the season by building extraordinary products with the protective benefits of powder coatings.
As a special skill, our manufacturers have mastered the art of powder coating. Our team is highlighting how professionally applied powder coatings can add versatility and durability to your customized items, products, or equipment.
Powder-Coated Steel, Aluminum, and Metal Products
With limitless colors and designs, here are a few of the best benefits of Double R's powder-coated steel, aluminum, and other metal products.
As a protective barrier, a professional powder coating can help shield against corrosion and rust caused by natural elements or rough environments. Powder coatings are a solution for longevity in battles against spring showers, storms, and strenuous settings.
As a durable sealant, rust-proof powder coatings may also help prevent any excessive wear-and-tear, such as peeling, flaking, chipping, warpage, and general breaking down of products and equipment. A sealant can add a layer of strength to your newly manufactured items or give new life to an older item.
As a finishing technique, powder coatings offer aesthetic appeal and versatility in terms of colors and styles. Customized products can match any taste. Consider everything from shimmering pastels for a spring vibe to bronzes for an antique finish.
Powder Coating and Manufacturing for Superior Products
A powder coating may be the final touch, but it is important to remember that Double R's team can work with you from the initial concept to the final design and delivery.
In addition to powder coating, Double R's design specialists are also trained in all processes needed for steel manufacturing and metal fabrication. The precision of waterjet-cutting techniques and the art of sandblasting allows for the intricate cutting, shaping, etching, smoothing, and cleaning of stainless steel, mild steel, aluminum, and other materials.
Overall, Double R's talent and artistry results in far superior products when compared to assembly-line items or unprofessional attempts at seals, coatings, or restorations. As professionals, we ensure clean lines, smoothness, and mirror-like surfaces to allow for the perfect application of protective sealants and brilliant powder coatings.
Leverage the power of powder coatings for your barn and stall equipment, steel gates for businesses and residences, or an array of other metal products and equipment for your needs.
Double R Manufacturing is ready to surpass your expectations this spring and throughout the year. Call us today at (800) 813-3361 to learn more about our other products and services.